Perth Wedding & Event Stationery Design
We are a creative graphic design studio in Perth where artistic inspiration meets the world of wedding and event stationery. With over a decade of experience, we have been joyfully designing and producing event stationery for customers across Australia and around the globe.
Here in our shop, you'll find a collection of pre-designed printed stationery and do-it-yourself editable templates. For custom designs, please visit our main website here.
About Us

The Hello Bureau is the creative studio of Cassandra Chew, a professional graphic designer with over 15 years of experience designing for personal clients and small businesses.

Previously based in Melbourne, Cassandra now creates and works from her studio in Perth, collaborating with local printeries to produce premium wedding and event stationery.


Her passion for creativity and attention to detail have earned The Hello Bureau the privilege of being featured in renowned wedding magazines and blogs like Ivory Tribe, Modern Wedding, and The White Files.

View Our Blog

Bespoke Stationery Design

With our bespoke design services, you have the opportunity to collaborate closely with us to customise every aspect of your stationery needs. This includes – but is not limited to – invitations, welcome signs, seating charts and other event stationery.

Share your vision, preferences, and unique style, and we will work with you to create and produce your dream stationery.

From intricate illustrations and typography to specific colour palettes, every detail will be thoughtfully tailored to make your stationery truly extraordinary.

Enquire About Bespoke Services

DIY Printable Templates

You'll find a range of do-it-yourself printable templates in our shop. These pre-designed templates are made to save you time and money on stationery.

Editing is a breeze - simply customise the template to your liking and effortlessly send the finished design to be printed at home or at a professional print shop.

It's the perfect option for those seeking a budget-friendly and efficient solution for their stationery needs.

Shop Printable Templates
Aindrea & Jason

"Cas was professional and made the whole process a breeze, she asked all the right question and knew exactly what design I had in mind. She was very friendly and loved working with her!! Highly recommend for your wedding stationary or for any event! Our wedding invitations, welcome signs, ceremony booklets, table menus, well everything turned out absolutely beautiful- next on my list are the thank you cards! 💛"

Sara & Christopher

"Cassandra is the loveliest, most efficient and professional individual to deal with. Everyone complimented our wedding stationery. We were extremely grateful to have had Cassandra as one of our wedding suppliers. Her designs are modern yet timeless, and would undoubtedly make for a beautiful keepsake for such an important occasion in our lives. Thanks Cassandra and keep up the amazing work!"

Daniel & Carl

"We had the pleasure of The Hello Bureau leading the creative process and designing our bespoke wedding stationary. It was a four-day long celebration that involved a range of stationary - including cards (8 in total), envelopes, bands and a stylised gift box. The Hello Bureau, led by our consultant Cass, was exceptionally creative, professional, flexible and efficient. We would completely recommend The Hello Bureau for your bespoke wedding stationery needs."
Handmade Paper Collection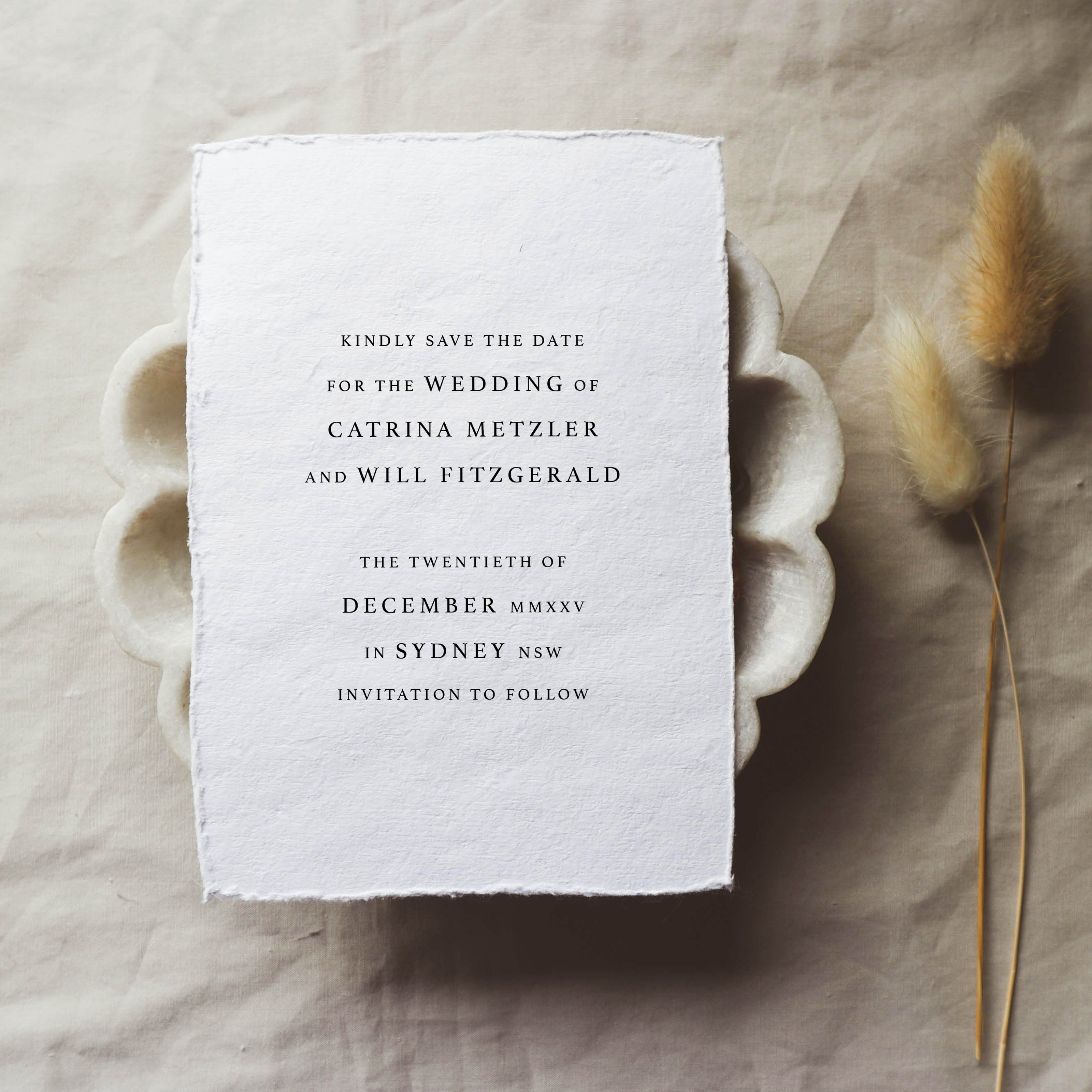 Wedding Invitation Templates
Karla & George

"I wanted to really customize my wedding invites to suit our theme for our wedding. George and I approached Cass from The Hello Bureau who was based in Melbourne. Although we are a couple based in Perth, the communication between us was constant and Cass made sure everything, even down to the dot, was perfect. Thanks Cass for the experience and the beautiful invites you've created which contributed to making the whole event even more special for us. Love Karla and George."

Lavinia & Adam

​"Adam and I asked The Hello Bureau to design our wedding invitations and menus for us. Working with Cass was such an easy and seamless process as she did everything to accommodate our design ideas and themes into her final design. The result was amazing! We received so many compliments for our invites and couldn't recommend her enough!"

Louise & Brent

"Cassie designed us the most amazing & unique wedding invites. She captured our wedding theme of adventure perfectly in the design. Very professional, great price, by far the best wedding invite designs I have seen! We had so many compliments from friends about how much they loved them. Highly recommend!"